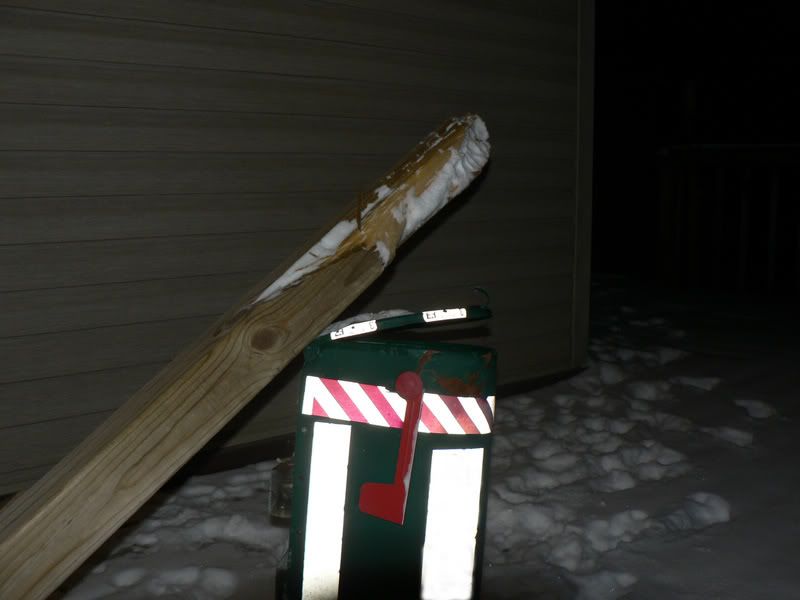 So this is what currently remains of my mailbox. Courtesy of the county snow plow driver. When I found it's shattered carcass in the ditch I was STEAMED! Our mailbox has met destruction the last 3 winters in a row. Will this never end? After a drunken moron flattened it last winter I decided to take action(it had already been destroyed by the plow once that winter). I propped up the mailbox for the remainder of last winter and vowed to move it to the other side of the road come spring.
I hoped the postal "CHI" would be better on the other side of the road. After getting the okey dokey from the post office last spring, I cemented in a 4x4 post and moved the mailbox. I adorned the mailbox (as you can clearly see) with enough reflective tape to make a highway construction crew blush. I figured It was all ready for the snowplow season. (note the rusted battle scars on the mailbox. This is from were I pounded out previous damage and resurrected it on a new post. Other mailboxes were not as lucky. Most found their final resting place in the trash.)
After today It's now painfully obvious that the Chi is no better on this side of the road. I'm starting to feel like Darren McGavin in a Christmas Story. He had the Bumpuses and their hound dogs and I have a cursed mailbox. At least the plow driver didn't kick down my door and make off with our christmas turkey. So I've got that going for me,....which is nice.
Since I had already scored the proverbial trifecta in mailbox destruction last winter. I wasn't about to take this lying down. As our nations fearless leader "the googler" would say, "Flatten my mailbox once, shame on you! Flatten my mailbox 4 times..and ahhh.......we won't get flattened again!
I mean really! I wasn't about to trying to drive a post in this frozen ground. Why should I have to pay for a new mailbox and/or a post every dam year because the plow driver gets his kicks trying to see how far he can send my mailbox flying.
With this in mind I I'm thinking I should call my county commissioner. After all he lives just down the road so we are neighbors. He should help a neighbor right? I also let him put an election sign on our property. There is also the little thing about him meeting his wife at my wedding. Oh and I almost forgot, his wife is my wife's cousin. Not to mention our families spend every christmas together and we're good friends. I'm thinking if this isn't an inside track then such a thing doesn't exist.
So I gave him a call tonight. For the sake of the story we'll call him Clerm Ningledibber. I tell Clerm the whole mailbox story of woe. I asked him if he knows what county office I should send the bill to because I thought my mailbox being hit this many times was a bit ridiculous and I wasn't about to foot the bill again.
Clerm chuckled a bit and said, "you've been replacing your mailbox yourself?"
"well yeah, why?" I said.
"You know the county has a bunch of mailboxes and posts on hand for just this sort of thing?." He says still kinda half chuckling.
"ahh I didn't know that" I reply
He then tells me that if the plow demolishes a mailbox the county has to replace it. He said they actually budget for it. The replacement is done by the county department that puts up road signs. Clerm says, "I'll call Gerglebutz, he's the manager of the department. They'll be out in the morning to put up a new mailbox for you".
I dedicate this story to Champthom.